The Cashless Revolution: China's Reinvention of Money and the End of America's Domination of Finance and Technology | Event | PIIE
Global finance is on the verge of upheaval resulting from China's dramatic innovations in financial technology (fintech). In The Cashless Revolution: China's Reinvention of Money and the End of America's Domination of Finance and Technology, Martin Chorzempa reveals how this global revolution will be as powerful as those wrought in social media, retailing, and advertising by giants such as Amazon, Facebook, Google, and Twitter.
China has in effect reinvented the concept of money, transforming a backward, antiquated cash-based finance system into one centered on super-apps created by technology giants Alibaba and Tencent. This book is a portrait of a system grappling with unprecedented challenges, an investigation into the financial and ethical questions in their wake, and an exploration of the impact on the lives and habits of people across the globe. 
China's Report Card for the past decade - by Yang Liu (substack.com)
With the 20th Party Congress planned for Oct. 16, Beijing Channel has combed through official figures to bring you the China report card newsletter that sums up China's achievements in numerous fields since the 18th Party Congress in 2012.
In this newsletter, we focus on the following fields: Infrastructure, Strengthening the rule of law, Made in China, The Chinese Market, China's Revenue, and Reform and Opening.
What to expect from Global Development Initiative? (substack.com)
Since its inception one year ago, the Global Development Initiative (GDI) has become a catch-phrase in the international arena, with more than 100 countries having expressed their support to date.
Here are some key points sorted out from China's official documents and research reports, which may help those who are interested to keep up with this fresh initiative.
Chinese whispers heard in London — Q&A with Cindy Yu – The China Project
How society has changed as well. I already talked a little bit about this with COVID, but I think public opinion has hardened against China as well.
Obviously, there was always a large constituent of Western public opinion, which was suspicious of China, or had certain stereotypes about it. Once upon a time, that was like "cheap, inferior manufactured goods," then it became "they're stealing our jobs." Now it is: "Oh, they let COVID out." I think voters now in the U.K. are very, very skeptical of China.
And more and more people, ordinary people who don't have an ax to grind or anything like that, are concerned.
I just hope that with this increasing attention on China, we also have increasing knowledge about China. Rana Mitter from Oxford University has a really good quote about this. He says that, "In the U.K. we've gone from complacency about China to hysteria about China without the intervening stage of knowledge." I worry that that's what we've done.
The dawn of the vanadium battery age in China – The China Project
New energy has a new darling: vanadium flow batteries. Although they are still too bulky for electric vehicles, China has announced several vanadium power generation and storage projects.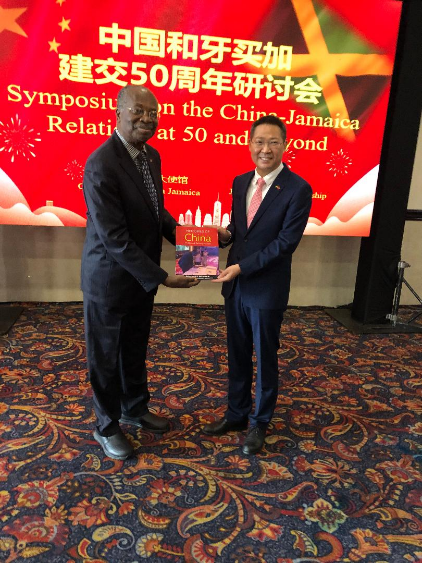 ABCF Vice-President meets with Jamaica-China Friendship Association
Vice-President of the ABCF, Dr Chelston Brathwaite, participated in the celebration ceremony for the 50th anniversary of diplomatic relations between Jamaica and the Peoples Republic of China. He had the opportunity to meet the Chinese Ambassador to Jamaica, H.E. CHEN Daojiang and the President of the Jamaica-China Friendship Association, Mrs. Irena Cousins. He discussed the work of the ABCF and shared our website. Mrs Cousins sent greetings to the ABCF and she looks forward to greater cooperation with us. Dr Brathwaite presented a copy of his book, "Memories of China " to the Ambassador.
Consider joining the ABCF
If you share our conviction of the importance of a deeper understanding of China and building ties of friendship with the Chinese, please consider becoming an active member of the ABCF. The annual membership fee is BDS$100, which goes entirely to the maintenance of our website and supporting the association's ongoing work. Information on membership may be found on the ABCF website at this link.
This compilation is put together by DeLisle Worrell, President of the ABCF